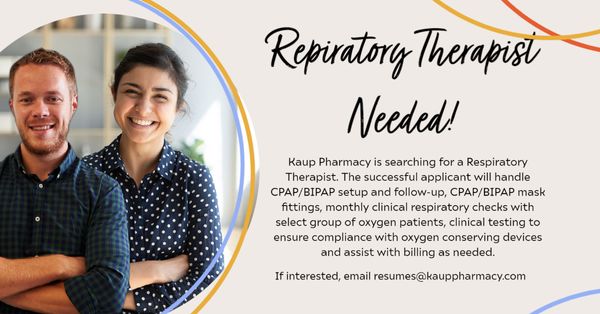 Join Our Family
Caring for People like Family: Kaup Pharmacy is a local pharmacy, serving the surrounding communities. We earned The Joint Commission's Gold Seal of Approval for Home Care Accreditation and we are committed to providing safe and quality patient care.
Respiratory Therapist:
Kaup Pharmacy is searching for a Respiratory Therapist. The successful applicant will handle CPAP/BIPAP setup and follow-up, CPAP/BIPAP mask fittings, monthly clinical respiratory checks with select group of oxygen patients, clinical testing to ensure compliance with oxygen conserving devices and assist with billing as needed.
Send resume to resumes@kauppharmacy.com